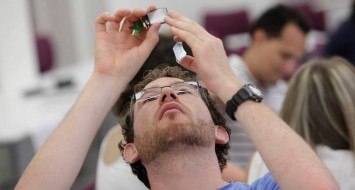 Environmental Engineering, Regional and Environmental Economics, Urbanism
Introduction
Balázs Kozák, former student of the Technical University took part in The Journey in 2014. Read about his experience about the programme in the interview below.
Interview
Which countries did you visit throughout The Journey?
England, Denmark, Poland
What project did you work on?
Start-up idea about smart household appliance-sharing
What was the most interesting thing about the teamwork in an international team?
Learning the way how each nation thinks about the same exercise, so the different way of thinking.
What was the biggest challenge in The Journey?
How to overcome personal conflicts in the group so that everyone stays motivated and works for the group
What did you like most about The Journey?
Some input lectures and site visits were amazing and visiting 3 cities in 3 countries was also top!
What were your most valuable takeaways from The Journey?
The people I met there and the great take away from input presentation, how to make a start-up, I look for opportunities every day.
What would you recommend future Journey participants?
Be open-minded, listen to everyone in the group, listen to your coach but be critical to them and start your business.