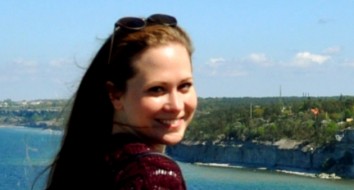 International Relations and European Affairs, Corvinus University of Budapest
Introduction

Krisztina was one of the hungarian participants of The Journey in 2015. Read our interview with her on her experiences and thoughts about the program.
Interview
Which countries did you visit throughout The Journey?
The Netherlands, Germany, Poland
What project did you work on?
Our mission during the project, called Solace, was to find a sustainable solution for women living in developing countries for being able to use sustainable&healhty sanitary cup. One of  the most commonly used female sanitary wares are disposable tampons and pads, with the average woman disposing of ~ 11 000 products over her lifetime. These products cause detriment to the environment, can be unhealthy, incur significant cumulative expense and are not readily available or affordable in some regions.
Solace aimed to face these issues by facilitating the safe use of a sustainable alternative aiming to have a social and climate impact. The Solace Cup is based on an existing technology consisting of a bell-shaped flexible cup, that is worn intravaginaly during menstruation, and is cheaper and healthier than non-reusable options. However, this cup requires rinsing in clean water between each use and sterilization after each menstrual cycle, which today makes it inconvenient or even impossible to use. Our technology submerges the cup in boiling water to achieve sterilization. Solace was a group of 5 women from all over Europe with backgrounds in Engineering, Business, (environmental) Sciences and Management who are passionate about helping women everywhere in a sustainable way. 
What was the most interesting thing about the teamwork in an international team?
To experience the inspiring endless opportunites of the diversity of a team in culture, educational background and interest while having the same commitment to make a change and the same conviction that we can do it.  
What was the biggest challenge in The Journey?
Presenting a complex idea with given time limits in front of investors was one of them, but the real challenge was to decide which environmental and social challenge to choose that one wants to work on, since all of the ideas and all of the participants were incredibly fantastic. 
What did you like most about The Journey?
The open-mindedness of the participants and the motivating speeches of our coaches who guided us all way long from the first day until the pitch in front of the investors.
What were your most valuable takeaways from The Journey?
If you have a great idea, it will be even better and it will change with time, many times, until your idea will be the one that can be strong enough to get through all of the obstacles and tries. However, one thing is more important: your team that will be with you all the way, doesn't matter how many ups and downs are during the journey.
What would you recommend future Journey participants?
Be brave enough to share your craziest ideas and you will see that actually people will like it. 
How the Journey changed your life?
It opened many doors to the world, not only professionally but as we keep in touch with the Journey participants, we have at least 40 friends around the globe that is a truly great thing to experience.